July 28, 2020
Posted by:

target

Category:

Blogs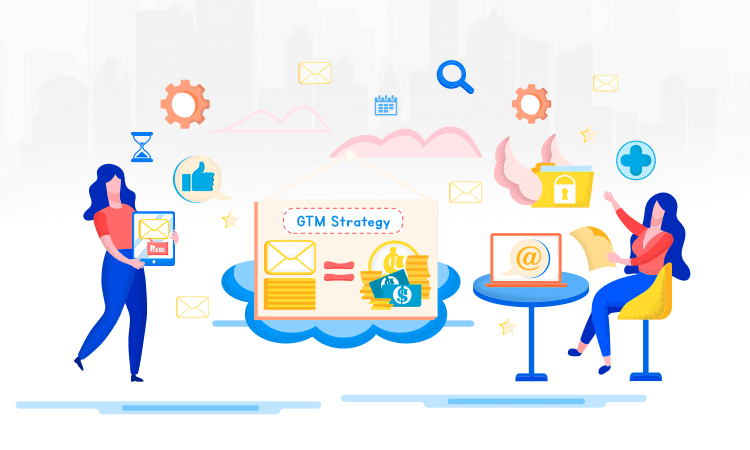 Best Practices For Crafting An Effective Go-To-Market Strategy
Every company wants to grow, to achieve that zenith where it can be recognised as the market leader. Growth can come from wildly various sources, however, without a proper, on-point strategy, you are going to spend a lot of time spinning your wheels but it won't lead you anywhere.
And when you are thinking about expansion or unveiling new products, the last thing you want is to waste your valuable resources and quality time. Those are more required to make your mark in the market at the right place and at the right time. In order to tackle such situations, it is important to craft a carefully thought out plan.
Planning and strategy are of utmost importance as resources are limited, competition is fierce, and time-bound target deadlines are nipping at your heels. Without a structured plan you won't know the right audience to chase or when is the right time to strike or the market is too saturated for similar solutions. Here comes the much talked about methodology – Go-To-Market (GTM) Strategy.
It is a way in which a company brings in a tactical approach that outlines the necessary steps to emerge victorious in a new market or with a new customer base. This new market or customer base can involve anything from launching new services and products to re-launching the brand or company or even stepping into a market with the current product. This strategy often begins with a single narrow scope hyper-focused on just one product. Every product and market is unique and this has to be dealt with thoroughly with suitable strategies. A GTM Strategy includes a structured business plan outlining the marketing plan, the target audience, and the sales strategy, developed on the basis of research, expertise, and market know-how. With a well-designed Go-To-Market Strategy you will be able to map out the market challenges and provide better solutions for your start-up, small business, medium business or even an enterprise.
Now, we are going to show you the best practices for preparing an effective GTM Strategy!
What Aspects Should You Consider When Making a Go-To-Market Strategy?
What Will You Sell?
This is the most crucial phase. The main objective is to understand the problems that you are addressing to solve through the product or the service. A company or product succeeds only when it is needed by the people. For instance, a recent survey report shows that almost 100 start-ups who shut down last year found that 42% didn't solve a valid customer problem. Regardless of whether you are a large enterprise, or medium/small sized, a strong and evolving GTM strategy is central to the success of your marketing initiatives. When you put together your GTM Strategy you delve deep into the 'why' that led you to come up with the product or the service. Then you have to identify the product roadmap and how it will change and adapt to social evolution. Don't forget to ask yourself where you will see your product after 6-months or a year. This thought will help you to work on a long-term strategic objective.
Who Are Your Audience And Buyers?
Who and Where – these questions might sound trivial but hold an extremely important position while making the GTM Strategy. Until and unless you know your customer well, you will never be able to get the desired success. Before you chalk out your GTM Strategy, you need to know exactly your customers' needs and demands. This involves both high-level knowledge like basic demographic info, as well as specific knowledge of your ideal customer—their wants, needs, passions, and preferences. Ask several questions like who are your ideal customers within those markets, what are the targeted groups and segments, and others. The answers to these questions will help you in getting the specific realistic customer profiles and you will be able to make better decisions and how to take things forward. Thus, your Go-To-Market Strategy will be on point with better assurance on results.
What Is The Competitive Landscape?
It is as important as knowing your customers. You definitely need to know who are your opponents and how's the battleground. How else will you react to the market necessities in a structured manner! A GTM strategy should be flexible enough to change constantly as per the demands and adaptive to adjust as the market growth. Get a complete idea about the market trends, the latest happenings. These will positively affect your launch and culminate towards your product or services success.
What Is Your Market Strategy?
To start off with the strategical part understand how much you are aligned with your overall business plan. Post that, you have to plan cautiously to engage with customers to create value and hit the strategic objective. Outline your customer's journey in four stages – Awareness, Consideration, Decision, Loyalty. These are necessary to support and sell the product. It is also suggested to use cases to understand your customers better because that's how you will serve them better. Make sure you fully think through the process and consider these changes after repetitive thoughts.
What Is Your Pricing Strategy?
Pricing your product or service may initially appear either vague and unusual, or remarkably straightforward and simply settled. In actuality, it's apparently someplace in the middle. If you have limited experience with business management or finances, this would be a suitable time to consult an expert or bring one to your organisation in a more continual capacity. You'll also want to refer to your product or service roadmap to gauge an idea of what you will need to charge your customers in order to make a profitable return. Furthermore, you will want to study at your adversaries to make sure the amount you are charging is reasonable for your buyer persona to make sure potential clients will be ready and willing to pay for your product or service. Also, look at your buyer persona to decide whether or not your price fits their passion for value, luxury, transparency, or other aims. However, before considering the actual number, look into other aspects like is it a one-time purchase, will it be a pay-per-use service, will there be subscription and others.
What Is Your Messaging Strategy?
Content is a compelling way to get in the presence of potential customers and convince them that you're knowledgeable and trustworthy. Think about what you can inform your users and how your content strategy can help promote your launch with things like blogs, posts, videos, ebooks, whitepapers and others. Your message should speak loud about the value you create and solve pain points or benefits to your customers.
Where To Position Your Brand And Offering?
Knowing your product or service's key characteristics and benefits will support you with success when it comes to positioning it in the market. Understanding how you stack up against opponents helps to make this move a little easier. Brand positioning is all about how you're going to place yourself against other competitors in the market or business and what ensures your brand to stand above the other alternatives. Your brand positioning should inspire the making of your marketing strategy and messaging, and thus, your product or service launch. Keep in mind your buyer personas and company mission when forming your positioning for your product or service initiation. Everything should unite together, as each element is a direct representation of your organization as a whole.
How To Leverage Your Customer Insights?
Consumers should have a uniform brand experience every time they associate with you. Recognising who your customers are, how they act and what they feel is invaluable for your business. The better customer insights you have, the better probability you have for producing a successful go-to-market strategy. A great way to accumulate insights is by surveying internal stakeholders within your business to better learn what customers are reporting them. This involves, but is not limited to, customer service representatives, your sales team and client-facing workers.
How To Identify Your Key Performance Indicators (KPIs)?
KPIs will be the metrics used to distinguish success factors in your Go-To-Market Strategy and should be aligned to your goals and sales objectives. For a product or service launch, an important KPI will be conversions, most likely designating that a purchase has been done. Conversions can designate multiple different ventures, defined precisely by your business. Maintaining the track of your KPIs will help you evaluate how your product or service launch is trailing against your goals and will also show areas in need of improvement.
Many people fear sales and business. However, with well-designed analytics and structured metrics, fresh sales AI technologies cropping up, business leaders can optimize their methods to accelerate sales. Establishing a successful company is not reserved for those entrepreneurs who've been honoured with special skills. Possibilities are, you've already created your product or service, and making a company is a very relatable process. You must be strategic and continue to evolve throughout the journey.
The benefits of GTM Strategy are as follows -
Gain market position
Develop tailored products and services as per market needs
Accelerate reach to your customers
Optimize Cost to reach
Improved defining of target markets
Better brand positioning
Better risk management
Adapt/transit to a new suitable business model
Expand overseas
Promote business
In order to give the best results to businesses, Targetorate Consulting keeps all of the above-mentioned strategies and tactics in mind and helps you in creating a path that will take your business to the next level that you desire. With more than a decade of experience and a clientele of 500+, the company has been giving GTM Strategy to small, medium and large businesses across geographies successfully. Take your decision wisely and partner with us!