July 28, 2020
Posted by:

target

Category:

Blogs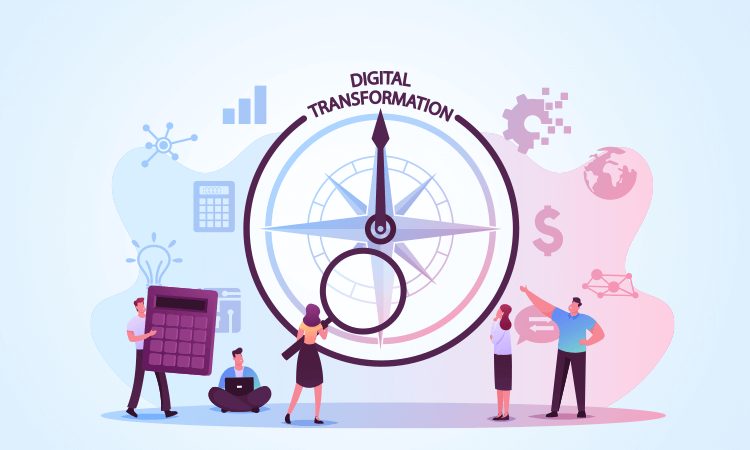 How To Measure Digital Transformation: A Guide For Business Decision Makers
Digitalization is not new and has been disrupting every business sector for a long time. But constant research and development and the ongoing technological evolution are spreading it like wildfire across every sector, whether its financial services, banking, retail, insurance, manufacturing, education or any other.
Digitalization or digital transformation doesn't happen overnight and is a continuous process. But when one attains some of it the prospects of the business enlarge by multi-fold and outputs are easily heightened.
It is important to measure digital transformation progress because 70% of digital transformations either fail or do not fully achieve their intended goals. After all, the digitalization is not done effectively. It is necessary to measure digital transformation to take the right course correction regularly and improve the success rate.
While conventional metrics of revenue, expenses, and consumer satisfaction should all be ranked, businesses should move beyond these quarterly revenues, perimeter guidance and short-term tactical focus. Additionally, to functioning differently, it turns out that digitally determined organisations also use different metrics than their less digitally recognised counterparts. According to various survey reports, many of the digitally distressed haven't appropriately shifted the way to measure additional success. Alternatively, they often rely entirely on traditional business success metrics, to the elimination of new digital transformation-related metrics that have the capability to deliver more insight to company leadership.
The Board of directors typically seek benefits, costs, and prospects of following a digital transformation plan, or of not doing anything at all. To do this they require a set of key performance indicators (KPIs) to scale digital transformation progress.
Measure What Matters
There's no benefit in measuring the extra and irrelevant to business. When it comes to making digital KPIs, it is advised to keep it simple. Don't build a KPI hierarchy but choose KPIs that can be easily measured and track 5-9 metrics. The actual value of any metrics lies in its ability to impact business decision making.
Keep a track on the following aspects and you will get the right metrics:
Return on investment (ROI)
Cost control
Quality
Productivity and agility
Customer satisfaction and experience
Innovation
Pilot/PoC Results
These will help the leaders to pull the levers in the business, keep customers happy, change as per market needs and stay ahead of the game, thereby, leading to success.
Digital transformation KPIs
To estimate the achievement of a digital transformation strategy, the long-term plan needs to be divided into short projects with distinct KPIs. Usually, traditional indicators of revenue, costs and customer satisfaction are taken into account. However, much more is required. Very broadly these can be additional KPIs to contemplate:
Directed Towards The Business
Cost of marketing investment on digital channels
Level of assistance and positioning of the business in the market
Level of digital development, training and expertise of associates, partners, employees and executives
Division of revenue from digital channels
Contribution and engagement of business departments in digital initiatives
Focused On Customer And Business Administration
New customer acquisition frequency
Increased user experience
Improving customer participation in digital channels
Decreased time to market for new products or services
Shift in customer/user response
Focused On Innovation
Innovative approaches being deployed and their level of progress
New products or services launched on the market and their percentage of revenue
New business standards fostered for various markets
New applications, technologies and innovative solutions implemented
Focus more on your journey
Stop comparing yourself with others. You might do some analysis to comprehend what is out there, but your transformation is possible to be different from everyone else's. You might have particular business, industry, or market quirks that make a copy and paste means improbable. Having your own digital transformation KPIs that are customized and well designed for you is a great benefit.
Beyond all, digital transformation is an impressive journey. You will eventually learn about the performance of your initiatives and gradually, the performance of your business. The variety of a transformation journey is different for all and is a head start towards a better future state.
In order to keep your digital transformation KPIs simple and useful, you need experts, who will guide you with the best. Targetorate Consulting is there to help you out.
As the best boutique business consulting firm, Targetorate Consulting has been serving multiple clients all across the world with the best digital transformation services. When the competition is high, and the need is immense, then it is smart to partner with the best. Get in touch with us today!