June 16, 2021
Posted by:

target

Category:

Blogs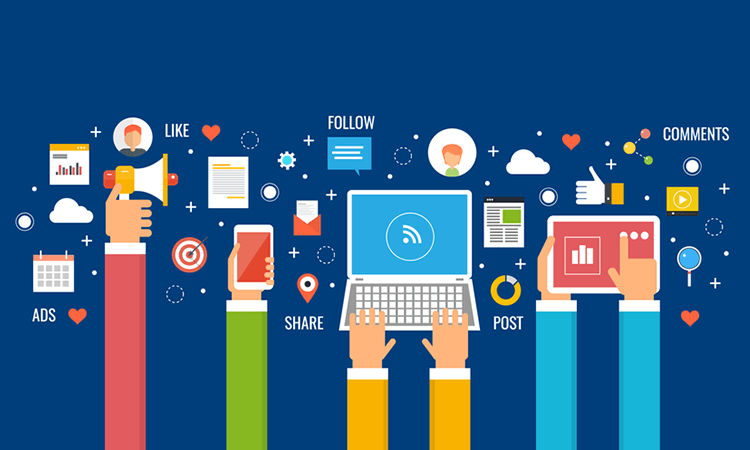 Top 5 Benefits Of Social Media Marketing
Social media marketing refers to the use of social media platforms to market a company's products and services. Social media marketing helps companies not only to engage with their existing customers but also reach new ones. The social media platforms enable tracking the target customer behaviour by giving analytics such as customer engagement, progress, and success of ad campaigns. At the beginning of the year 2021, as per the data sources, there were 4.33 billion social media users globally. It is a surprising fact that by April 2021, 521 million new users joined social media, which reflects the aggressive growth in the usage of social media.
More than 55 percent of the global population is using social media. To reach out to the customers, companies are using social media as it is the place where their target customers are most active. Companies are focusing to engage, influence, and ensure their brand voice is heard through social media.
Benefits of Social Media Marketing
Brand Awareness – Having a social media presence for your business makes it easy and simple for both existing and potential customers to connect with your brand. By sharing your brand's content, you can not only improve your products and services visibility but also promote your brand more effectively. Social Media Marketing is very effective when you want to create brand awareness in the shortest time globally.
Increase Inbound Traffic – Social Media Marketing is one of the most customer oriented strategies to promote your brands. Using social media platforms gives brands an excellent opportunity to interact and engage with the customers. In this process, there is an increase in traffic back to your website too. The more user-oriented and high-quality content you post on your social media channels, you can experience more inbound traffic back to your website. When there is more traffic to your website, there will be more leads/sales which help in higher conversions.
Lower Advertising Cost – The cost of advertising spent with respect to reach to target audience is much lower on social media than traditional media such as TV commercials, radio ads, and printing flyers. Now, add to that the benefit of the ability to track how successful your advertising was with analytics such as views and clicks makes social media advertising a more effective medium.
Improve Consumer Experience – Social media helps to decrease the gap between the businesses and its consumers. Consumers have the power to reach out to you directly via social media and you have the opportunity to delight the consumer by responding immediately to all such queries. This also makes sure that the customer issue is resolved timely before it snowballs and becomes a big PR nightmare. By enriching customer experience you can establish loyalty among your customers and when customers share their positive and good experience, that will have a direct impact on your credibility and brand preference.
Consumer Insights – Social Media platforms provide analytics that will help you to understand your customer behaviour and preferences in a very detailed manner. This can help focus on delivering messaging and products/services that the target audience are more interested in. You will also get to know what is trending among your target audience and help you prepare strategies to grab their attention.
If you are looking for an End-To-End Digital Marketing service providing company, don't wait further. Just contact us at +1 (815)-981-8638 or email us at contact@targetorate.com for all your Social Media Marketing Requirements. You can also request a callback by just dropping us a line on this link, and one of our business consultants will contact you at the earliest.