August 18, 2020
Posted by:

target

Category:

Blogs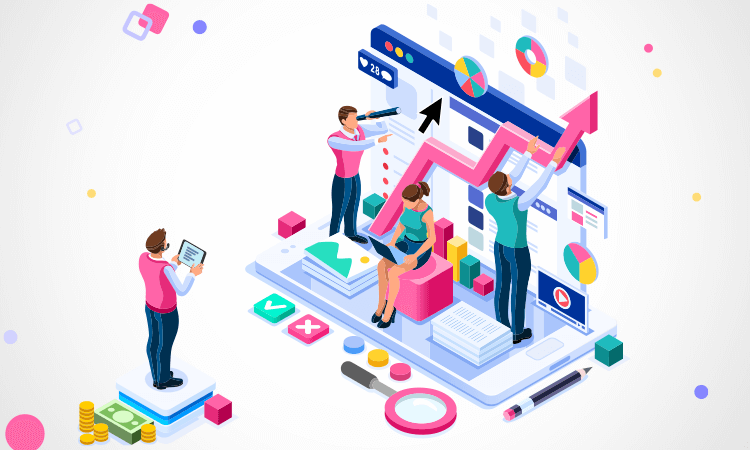 Increase Your Conversion Rate With These eCommerce Personalisation Techniques
Your eCommerce website might be driving a lot of traffic, but is it converting to paying customers?
In today's digital landscape, competition is fierce. And this has risen the difficulty level for new visitors' inflow and converting visitors to paying customers for maximising ROI from acquisition marketing.
Either you can study and learn the various marketing tactics, which are complex and time-consuming or take the help of experts. Digital Marketing companies have experts who know exactly what to do, how to do, where to do and when to do.
So how to reduce the bounce rate and friction, and convert those new visitors into customers and then loyal customers?
Here are some eCommerce personalisation techniques that will help you hone your customer journey for maximum conversions and boost your customer experience.
Dynamic Banner
The banner image is the first thing visitors see when they land on your online store or eCommerce website. It acts as the hero who grabs the customers' attention and tells them about your offerings and business. It is also one of the deciding factors for visitors to stay on your website and become customers or move on. It is a good idea to transform your banner into pieces of dynamic content that will allow you to appeal to the new visitors with the images that are most likely to intrigue their interest, boost their confidence and keep them to your website.
New visitors like contextual data. It is recommended to customise and personalise your landing banner with product recommendations that are apt for the current weather or season as per the visitor's location. Another impactful idea is to provide tailored delivery details according to the visitor's country and local currency if you have a global business plan.
Product Propositions
Providing product propositions is an old technique, but it works miracles. Even a survey report showed that product recommendations can generate sales uplifts as high as up to 11%. In order to guide your visitors towards the product pages, nudge the new visitors with products that might spark their interest.
When customers don't get to try or touch or see the product in flesh, they tend to get influenced by the other shoppers. Thus, display your best-sellers, trending products, and it will influence the potential customers to make the purchase. Don't forget to recommend new arrivals and impact the customer's built-in expectation that something new is better than what came before.
It is necessary to personalise the browsing experience of the visitors based on their real-time activity so that the visitor gets what they are seeking and convert to a customer by buying them.
Data Capture
This is of major importance as you will understand your visitors better and provide them with a customised journey. One of the significant ways to capture data is by displaying a popover with discounts or some offers in exchange for email details once your visitor has spent some substantial amount of time browsing your online store.
Also, provide personalised offers to your customers. For instance, if your customer is a student, give a student discount, if your customer is visiting on a special day give a discount for that particular day, etc.
Social Influence
Once your visitors have made it onto a product page, now it is time for you to encourage them to add that product which they have been looking into for a long time to their shopping cart. Use social influence to make their purchase decision quick and easy and stop them from bouncing before adding the item to their cart.
Include user-generated content in your product pages to help the new visitors imagine how the products will work in their life and show inspiring images of real people using the products.
Studies prove that one in two customers do extensive research, and after a lot of comparisons make the purchase. Moreover, half of the customers watch for ratings and stars when making a purchase. So, it is better to show customer satisfaction with real-time stars, reviews, ratings and boost the customer's confidence to complete the order.
Creating a FOMO and urgency with a message highlighting how many customers are viewing the product or only a few items are left in stock will also lead the customer to put the product in the cart right then.
Countdown Timer
When your customer has added the product to the cart, it is time to speed up their purchase process. It is the right idea to alert the shoppers with a countdown timer of express or next-day delivery with detailed information about the procedure. Don't try to distract the customer or feed him/her with too many unnecessary details, otherwise, they might abandon your cart.
All of these are seemingly simple but beneficial tactics. They work best, when implemented under expert supervision. Targetorate Consulting provides the best high-end guidance to personalise your online shop to boost your conversion rate. Along with customization tactics, we provide you with marketing techniques that will help you drive more and more customers to your website and increase your ROI.
So, it is time to take expert help and relax.