October 13, 2020
Posted by:

target

Category:

Blogs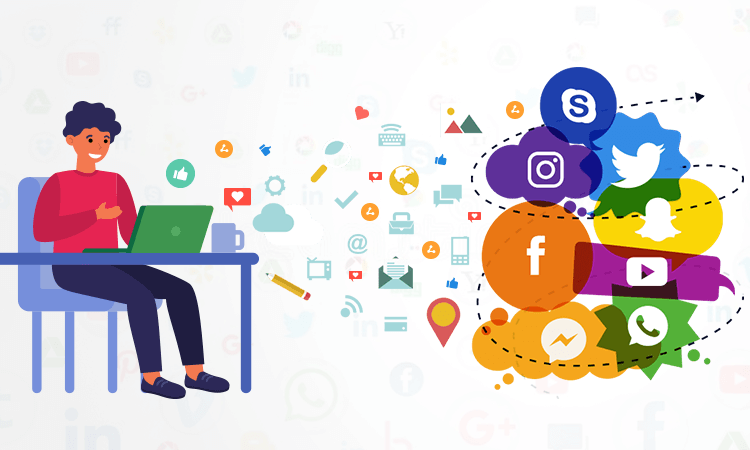 Embrace Social Media Marketing!
What's the one thing that you check first when you wake up in the morning? Well, the answer in most cases is your mobile phone. And a few of the most visited applications on the phones are Facebook, Instagram, Twitter, LinkedIn, Pinterest and other social media platforms.
Social media has become a part of our everyday lives. There are around 3.5 billion social media users across the world as of August 2020. No wonder, almost every sizable business in the world has Facebook, Instagram and other social media pages to connect with their customers.
With the constant shift of customers to interactive face-to-face communication platforms, social media channels are enhancing the engagement quotient of organizations. Social media marketing has the capability to enhance your brand's overall visibility, help you to reach your audience faster and strengthen your brand across your target market. Majority of the marketers believe that their efforts through social media marketing have been either "effective" or "very effective" for their businesses.
As marketing unfolds and evolves further, there's a constant emergence of new platforms and strategies, which are being touted as the next big thing. As that occurs, it's crucial to get onboard to keep up the pace. Social media is important because it allows you to reach, nurture, and engage with your target audience, regardless of the types of business (B2B/B2C), offerings (products/services) and location. When a business effectively utilises social media to connect with its audience, it creates better brand awareness; and generates more leads, sales and eventually, revenue.
Here are some reasons why you really need social media marketing!
Let The World Know Who You Are
Social media broadens your scope to highlight your best aspects with just one click. Social Media Marketing enables customers to easily find out more about your business and your offerings without moving out of the application or website that they are browsing. You can demonstrate your strengths through staff bios, interactive posts, customer testimonials and creatively highlight the company's core values, brand voice and unique qualities. Effective social media marketing enables you to stay ahead of your competitors, make a mark and engage with customers actively.
Target And Attract Your Audience
Social media marketing allows you to reach your audience, locally, regionally, nationally and even internationally. You can understand the characteristics of your target audience and personalise messages accordingly. The importance of social media marketing is witnessed by providing value as well as creating a low-cost way to market your business. Moreover, social media marketing allows you to have direct control over the type of messaging that is shared with the world.
Enfold Variety In Your Content
Several platforms have the potential to reach millions and millions of customers, and your next client might be hiding in one of them. Social media marketing increases your ability to connect and propose diverse content, evaluating the potential of various channels. Diverse content is valuable to connect with the target audience and maximise the ROI. Popular platforms help you to engage with your audience on several networks and comprehensively resonate your thoughts and ideas.
Easily Track Campaign Results
Social media marketing enables you to create a space to set up promotional posts with which you can target a specific audience and increase your conversion. Social media channels help you to review and analyse results, evaluate impeccable detail and data and change the course of action accordingly, without having to wait too long to realize the outcomes. According to a survey report, 44% of consumers purchase items seen on a brand's social media post.
Social media marketing is growing regularly and requires a lot of attention. Remember, it is time taking, needs quite close monitoring and results can take around 6-12 months to realize, based on the nature of your business and current maturity level. Hiring an expert Digital Marketing firm to drive social media marketing will help you reach your goals faster.
With major innovations and achievements in the marketing field, Targetorate Consulting has helped several clients across industries, leverage the power of Social Media Marketing. So, leave the understanding of the daunting to us and leverage social media marketing to get maximum ROI. Partner with us!