August 31, 2020
Posted by:

target

Category:

Blogs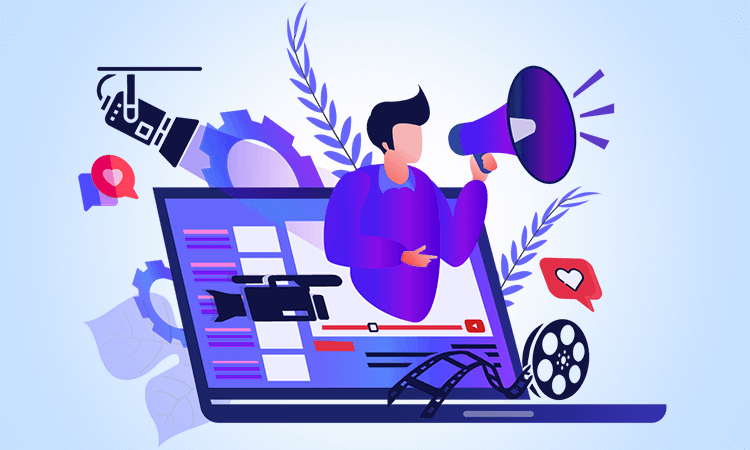 Video Marketing: 5 Irresistible Benefits You Can't Miss
It's a fast-paced world, and choices are also fast-changing. In this situation, it is extremely critical to pitch your product or service uniquely and interestingly amidst the crowd of other competitors, who are vying for your prospect's attention.
Video marketing is not new, but with the changes that society is going through, it is emerging as a powerful and effective marketing tool. It is gaining more traction because of the hectic schedules that people are currently going through. They would prefer a two-minute video more than a 15-minute long read. However, only 60% of B2B marketers have harnessed the power of video marketing until now. If you are not already in the game, then it is time you start thinking otherwise.
Today, we will share with you how video marketing is key to your business!
Boosted Conversion Rates
Businesses should see video as an investment. As per the latest reports, a video on a landing page has the potential to increase conversion by 80%. If your video has a compelling presenter, then it can influence the buying behaviour of the visitor and persuade him/her to convert into a lead or a customer. The right emotions need to be converted through the video, and thus, it becomes a powerful selling tool. Also, depending on your angle of presentation, it can be used as a built-in tutorial or a testimonial of your product or service.
Great Addition To Email Marketing Campaigns
We all get overwhelmed with emails but compelling someone to actually open that email is indeed a task. However, just with the usage of 'video' as a word on the subject line, you can heighten open rates and diminish unsubscribe rates. The latest reports highlight that a video in the emails escalates click-through rate by 200-300%. Videos are indeed easy to watch than read a text. This tactic is more impactful when you demonstrate how your product works or express something impactful, which can't be well explained through words.
Increased Search Engine Ranking
The actual algorithm of how Search Engines work is not known. However, it is a known fact that Search Engines are constantly searching for unique and engaging content for viewers. And nothing entices the audience more than a video. Moreover, besides Google Search Engine, YouTube ranks as the second largest search engine. Almost 5 billion videos are viewed per day on YouTube. If your video is shared on both your website and YouTube, then your visibility chances increase by two-folds. Moreover, if the video is promoted via social media then your chances of getting noticed are heightened further.
Enhances Trust And Credibility
Video helps you to create a personality or an avatar of your company and brand to communicate with visitors and potential customers. This enables you to establish a connection with your visitors and customers and gain their trust. A survey report shows that 90% of users get better decision-making capabilities by seeing the product video. The more videos you have to educate, inform your customers about your product or serving, the more credibility quotient you have. This trust thereby translates into sales.
Improves Social Visibility
It is indeed a day and age of viral videos. Around 92% of mobile video consumers share the videos they watched with others. Thus, with an entertaining video and messaging, you can reach your potential leads easily and make a mark on social media. This in return will help you to enhance your brand value on social media platforms as well.
In order to get unique and engaging videos, you need expert help who can guide you with the messaging and create unique, interesting videos as per your requirement. Targetorate Consulting has successfully worked on 200+ projects helped clients make a mark with videos. Get in touch with us!