August 11, 2020
Posted by:

target

Category:

Blogs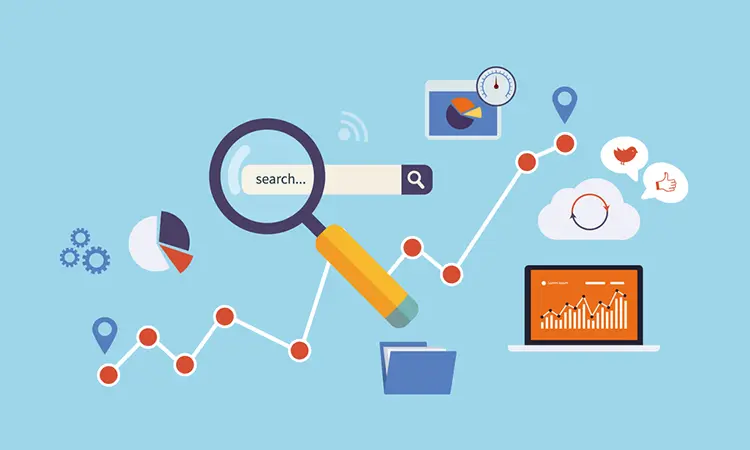 The Key SEO Metrics You Don't Want To Miss?
Search Engine Optimization or SEO is an important aspect of a website. It helps you in ranking your website on Google Search Engine, build relevant content assets, branding and quality lead generation. Also, SEO forms the centre theme of impactful and long-lasting Digital Marketing.
Furthermore, SEO also involves using several tools to gauge the various data that can tell you the number of website visitors, the origin of the visitors and whether they are opting in for your offerings, services or products, website structure, website backend issue and many more. The right SEO metrics help you in making the right marketing strategy to get an effective outcome. But what are the most important metrics to track that will help you to achieve your goals?
Let's start now!
Organic Traffic
Let's start with the basics. If you want to know whether your spending on SEO strategy is working at par or not, then you need to take a look at your organic traffic metrics. So, what is organic traffic? It is the number of website visitors who are visiting your pages from a search. Neither you pay for them nor you refer them through another website, these organic visitors find you by hitting search on Google. This organic traffic is extremely important as it presents an overview of how well your rankings are and what is working best for you. Implement Google Analytics and keep a check on your organic search sessions, bounce rate, new visitors, page sessions, etc.
The Keywords That Are Boosting Your Rank
The Keywords that you are ranking for are metrics that determine your positioning based on the keywords that you have put without any serious efforts. For instance, if you are a matchbox supplier or matchbox manufacturer and you are ranking for a key phrase 'matchbox', then it is great because the matchbox is definitely one of your offerings, and therefore, you get an initiation point to decide what are the other keywords you want to rank for. Use Google Search Console to get the list of keywords that your website is currently ranking for.
The Keywords You Wish to Rank For
Your website can rank for multiple keywords, and the more keywords you rank for, the more benefits and business you get. Some keywords would help you to get more customers and make a huge difference for the business. For instance, if you are a matchbox manufacturing company, then ranking for the key phrase 'matchbox manufacturers' will be more beneficial than ranking for the key phrase 'matchbox' or 'matchbox supplier'. This is the reason you need to track the keywords that you will want to rank for. There are advanced tools to help you deep dive and see how many searches certain keywords have for every month. This will help you to plan an opportunity to rank for the ones that you want.
Alexa Ranking
Ranking on voice search, depending on your industry is a big deal. It has monumental results on the business output. While ranking on Google is important, ranking on Alexa is equally necessary. In a survey, 48% of consumers claimed that they use voice searches for websites. While 85% of this 48% uses phone voice searches, 39% uses Google Home or Amazon Alexa. Voice searches are a big deal in the future, and you must start taking care of it from now. Multiple advances tools can provide you with various SEO analysis like competitive website analysis, keyword research information, and more depending on how significant your Alexa search ranking is.
Page Speed
Many put this aspect at the backseat. But in reality, this factor of your SEO should be high up. Page speed has a huge impact on the bounce rate of your site. The bounce rate is basically the percentage of website visitors who clicked off from your website after a few seconds of their visiting. It is kind of a negative rating to Google, who feel your content is not what the visitor is looking for, thus Google will slowly push you back and replace you with something more relevant. Not only the bounce rate due to the page speed will impact your google ranking, but nowadays Google is pushing SEO rankings down if your page speed is slow. Page Speed Insights by Google is a great tool to understand the page speed of each of your webpage.
Social Traffic
It is essential to track social traffic of your business as you are putting time, money and effort into the social media strategy and you want the call to action statements of your posts to convert into website visitors. The social traffic will highlight if your posts are working or not and whether you need a new social media strategy. In today's day and age, social media plays a significant role in boosting website visitors. You can track how many visitors you are getting from channels like Facebook, Instagram, YouTube, LinkedIn, Twitter, and others from Google Analytics and work on your next social media strategy for better outcomes.
Backlinks To Your Competitors' Site Vs Yours
Backlinks of your website are essential and beneficial to your business. It shows how good and enticing your content is. Good content can give you quality backlinks, which means that post is valuable to other websites to cite in their content, thereby boosting your post up in the search rankings. While you keep an eye on your backlinks, don't forget to check your competitor's website backlinks, because then you would understand what the shortcoming in your content is. There are multiple tools to check backlinks, and you can make your website stand out amongst others.
Organic Conversions
These metrics are going to define if your SEO strategy is moving forward or not. You might have 10,000,000+ customers but, your strategy is in place if 10% of them are converting into subscribers or customers. Organic conversions give you an insight into how well your content is targeted and motivating visitors to opt-in as customers and subscribers.
SEO can sometimes get cumbersome and tedious, but it's an extremely significant aspect to boost your business. It gets easier when you have experts to guide you and take care of all the metrics and prepare an effective strategy and help you profit from it. And Targetorate Consulting is the appropriate digital consulting firm you need to take care of your SEO activities effectively and affordably. With more than 2 decades of experience and 200+ clientele, Targetorate has been helping clients achieve goals with high-end SEO services. Partner with us and get the best SEO service at an affordable rate.