July 8, 2020
Posted by:

target

Category:

Blogs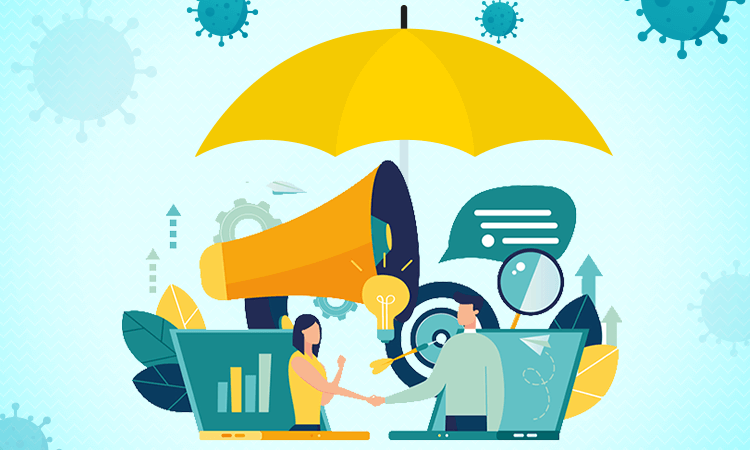 Digital Marketing: The need of every business in this Corona reign!
The COVID-19 pandemic caused by the novel Coronavirus has exhibited traditional marketing techniques less appealing, encouraging business across all industries and regions to leverage digital marketing techniques to not only fight for survival but also to be market leaders.
The unprecedented, almost-total eclipse of all channels related to live events and discussions, and the growing barriers to face-to-face business, pose an immense challenge. The key to resilience is the development of ongoing contingencies to mitigate this loss.
Being restricted to the office – or even the home – rather than on the road on sales calls or at events, indicates marketers have more opportunity to develop digital strategies. This implies studying where your clients can be found online, and how unconventional approaches and tactics might impact your progress. Earlier, if your organization put token efforts towards digital channels – because like several other businesses, you had created your networks offline and that had always appeared to work – now is the moment to revisit them. That could be as plain as providing your website and social pages a revamp, or a more innovative approach.
Now, online channels have become more important and are playing a crucial role as quarantine has become the new normal. As per a report, Italy witnessed a 30% online traffic spike as the government introduced a country-wide lockdown.
While digitalization has been adopted by many beforehand, many are barely conversant with the idea of digital marketing. In any case, this article will help you in understanding the perks of digital marketing and how you can benefit your business during these trying times.
Just like the name suggests, the term digital marketing means marketing efforts utilized through the internet or any other digital technology. The word came into existence in the 1990s and since then has become one of the hottest topics in the marketing industry. Today, businesses spend over $100 billion on digital marketing worldwide, and the figure is only expected to grow in the upcoming years.
The role of Digital Marketing in the time of crisis:
The only way to this new virus until the vaccine comes is to maintain social distancing and stay at home. And thus, the web usage statistics are escalating regularly. Schools, colleges, offices, exams, shopping all are significantly increasing as they help one to stay away from human contact. This has heightened the usage of social media and websites as people are staying in touch with their loved ones and outside world through digital means.
While digitally savvy businesses have already upped the game and focused on more meaningful digital engagement, many businesses are still contemplating the pros and cons. This is the time to relocate the marketing budgets into digital marketing and embrace the plethora of digital marketing channels that are available today and can give instantaneous results.
Here are the few available digital marketing channels that will help you to leverage your business, gain a digital foothold, generate more lead, and keep your existing customers happy:
Search engines like Google is an entry point in the world of web, and any business can appear at the top of the search result page by bidding keywords relevant to the user's search query. This method provides predictable results and can be scaled up or down based on the digital marketing budget.
SEO & Content Marketing
Businesses can highly benefit from SEO or Search Engine Optimization. It is one of the most effective ways to entice the targeted audience. This technique when combined with content marketing gives valuable results as it targets a clearly defined audience. Though SEO takes some time to show results, it creates a long-lasting impact. Through informative blogs and posts, many businesses can educate their customers and expand their reach during this ongoing pandemic.
Billions of users around the world use social media platforms like Facebook, Twitter, Pinterest, and Instagram to spend their time and be updated about the world happenings. It is one of the best options for businesses to engage their customers by sharing all kinds of content, ranging from behind-the-scenes pictures to light-hearted jokes intended to keep their spirits up.
Email Marketing
Apart from the above-mentioned marketing methods, email is once again one of the most effective digital marketing channels. From personalized email campaign featuring coronavirus-related tips to special promotions, or any other engaging content – you can enhance your customer reach by leaps and bounds.
It is sad but the truth is Coronavirus is not leaving anytime soon. And digital marketing is an apt way to fight in these trying times. The world is embracing digital marketing methods more and more and it is going to increase every time. The global digital marketing software market size alone is expected to reach $151.8 billion by 2027, registering a CAGR of 17.4 percent from 2020 to 2027, according to research conducted by Grand View Research.
Here are a few guidelines to initiate a responsible digital marketing campaign in the wake of COVID-19:
Customize marketing campaigns and reassess proposed content timelines.
Thoroughly evaluate the brand's imagery and language.
Be positive, but do not be ignorant and keep a tab on the latest digital technologies that will help you to scale up your business.
Highlight how your brand can help.
Don't miss out on the Digital Marketing benefits. Partner with us! We are experts in Digital Marketing empowering growth for businesses across industries and geographies.