July 28, 2020
Posted by:

target

Category:

Blogs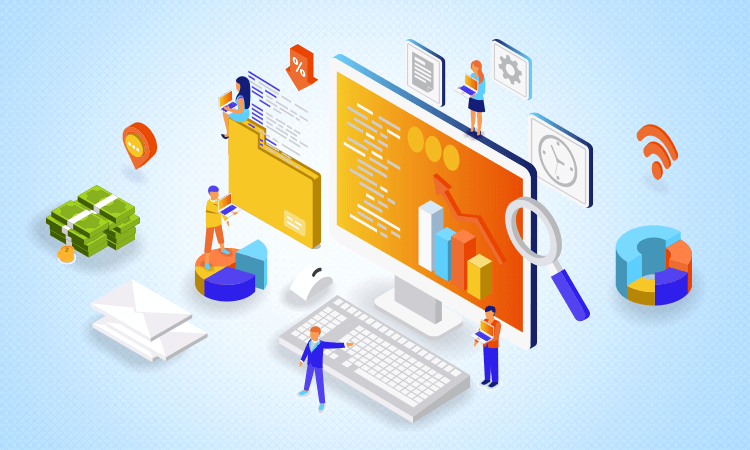 The Impact Of Digital Transformation On Your Business And Operational Efficiency
Technological innovation is giving rise to waves of positive disruption for businesses all across the globe. Innovation and business transformation driven by digital technologies are paving new opportunities for businesses as well as the society. Digitally transformed businesses have become accessible to a broader audience, regardless of their size, nature and location.
This Digital Transformation improves cost-efficiency and generates higher revenue. And not just these, it also enhances productivity, creating a distinguishing mark for the business. The striking combo of digital technology and business processes can produce extensive business improvement if deployed and managed correctly.
What Is The Digital Transformation Of Business?
Digital transformation is the intense revolution of business operations, proficiencies, and business models to influence existing opportunities and new ones with the help of digital technologies. It attributes the adoption of digital tools and methods to attain short-term as well as long-term business goals.
Digitalization is a composite and multifaceted method. It describes a colossal cultural as well as a functional shift in the workplace, improving every aspect of the business. The digital transformation of the business helps the leaders to have an insightful rethinking of how to execute and utilize technology and resources to alter business processes and performance for the betterment.
Getting accustomed to the digital transformation is indeed fascinating. However, greater attention is invested in the 'digital' part, rather than the 'transformation' part. The convenience of just buying the right software to immediately improve productivity is tempting. Yet, mostly, digital transformation is more about how the company works together with other internal processes in sync with each other and embrace the technological shift.
As per the reports of McKinsey's Global Institute's Industry Digitization Index, the potential for digital transformation has just begun. Europe is functioning at only 12% of its digital potential, while the United States is only doing slightly better at 18%. Digital transformation has a holistic impact on the business.
Digital transformation affects almost every aspect of business operations, including people, their abilities, work capabilities, and culture. Additionally, it also includes methods that involve responsibilities, plans, approaches, and workflows.
Digital transformation creates a well-connected workplace culture and helps in achieving various business strategies and goals by implementing the latest innovative tools. The ultimate outcome of digital transformation is to have established the strategic route, risk craving and budget, rate of change, agility, and technology enablement.
The Importance Of Digital Transformation For Businesses
Here are some business and operational returns that business owners can expect with the adoption of digital transformation within their businesses:
Well-Thought Decision Making
When a business owner has enough, well-organized data gathered from digital transformation tools, there's a better decision-making process. It leads to a higher success rate, brand awareness, and accomplishment of other significant business goals. Thus, information flow so vital for a business, which is enhanced by digital transformation.
Enhanced Efficiency
With automation and enrichment of business processes, the digital transformation makes operations faster and smoother, thereby escalating the whole business efficiency.
Advanced Profitability
Estimating profit margins without digital transformation is impossible. To increase profits, businesses need access to more resources that further augment their efficiency and hence the productivity. Digital transformation enlarges the reach and efficacy of the businesses, thus, increasing the ROI and taking it new levels of achievement.
Improved Market Infiltration
The enhanced efficiency and improved decision-making, and the flow of market penetration due to digital transformation evolve the business into being more competent. This aids the businesses in developing a vast customer base, checking regular customer satisfaction, and evaluating constant profit margins.
Superior Customer Experience
One of the primary objectives of any business is customer satisfaction and ways to increase it. To do this, business leaders need to scale and comprehend metrics relevant to the notion, which is extensively supported by digital transformation. With an improved customer satisfaction rate, the digital transformation success rate of the company also increases.
Lacking proper technology in this era of digital transformation leads businesses to deter their productivity and destroy their revenue generation. Thus, it is always better to seek expert help, who will guide you in your digital transformation as a partner with aligned ideas and thoughts. As per a study, 32% of the IT decision-makers have witnessed that digital transformation impacts revenue with a substantial 23% increase. Moreover, with a high level of digital transformation, revenue has risen 1.5 times faster than the average. This also means more economical costs and higher capital productivity.
As a global digital transformation enabler, Targetorate Consulting understands how digital transformation is crucial for businesses in today's competitive world; and has designed the services to meet the unique needs of the businesses. Through digital prowess, Targetorate Consulting transforms your business functions, processes, assets, activities, and models. Partner with us today!